Home >> Treatment & Support >> Questions for Your Doctor
Questions to Ask Your Doctor About Asbestos Disease
When a person is diagnosed with mesothelioma, they and their loved ones are likely to be flooded with concerns and questions. It can also be such an overwhelming time that it can be hard to know exactly what to ask your doctor. Because education is so important to understanding and managing you or your loved one's mesothelioma treatment, we have compiled a list of important questions you should ask your doctor.
Also, don't be afraid to tape record your conversations, as it can be hard to remember the responses to such emotional questions. And don't be afraid to ask for a second opinion. This is your body and your life; you have the right to advocate on your behalf and expect the best care possible.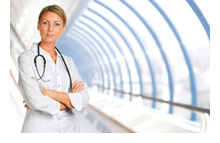 Questions about Mesothelioma for your Oncologist or other Medical Professional about Mesothelioma or any Asbestos Related Disease:
How and why did I develop mesothelioma? This question can be particularly important because you may have the legal right to seek assistance with your medical expenses, as well as compensation for your losses and suffering, if you were exposed to asbestos as a result of your employer or another party's negligence. See our legal resource section for more.
How advanced is my mesothelioma? The stage of one's mesothelioma —which indicates the degree of metastasis, or spreading, of the cancer—is important to know, as it will effect your treatment and prognosis.
What type of mesothelioma do I have? Different types of mesothelioma exist, each affecting different parts of the body and producing different symptoms. If your asbestos related condition is not mesothelioma, learn as much as you can about the condition with which you were diagnosed.
What are my treatment options? What are the risks and benefits of these options? It is also a good idea to ask your doctor if they have any research or financial interest in the types of treatment they are recommending. Some drug makers offer financial incentives to doctors who prescribe their medications. This is always good to know up-front so you can make an informed decision about your care.
What clinical trial studies might I be able to try, if any? Clinical trials are research studies that test out new and promising treatments for mesothelioma. These may provide a treatment option where there otherwise might not be a whole lot of treatment options. You must qualify for mesothelioma clinical trials.
What kinds of alternative or complementary treatments might help? While not all doctors have a good understanding of alternative and complementary therapies, many of these treatments are promising in the treatment and management of mesothelioma and other cancers. These mesothelioma treatments might include meditation, acupuncture, hypnosis, massage, and more.
What is my prognosis? If I pursue treatment options? If I do nothing? While this can be a scary thing for many patients and their families to ask, the answer can help you and your family plan for the future and determine what you will experience in the coming months. Remember that, while your doctor will do the best to give you an honest assessment, it is just an educated guess. Many complicated factors affect survival, many of which cannot be accounted for through medical assessment alone.
How many patients have you treated with this type of mesothelioma cancer? Were they close in age to me? Which treatments did you use? What were the effects? Are any of the patients still alive? Can I speak with them? Sometimes it can be helpful to speak with other patients that the doctor has treated, or is treating--or to at least have information as to how other patients were treated, how they responded to treatment and how their prognosis may have been affected. Your doctor may be able to put you in touch with other mesothelioma victims. Understand that due to privacy regulations, your doctor will first have to obtain the approval of his other patients before you will be able to speak with them.